How Much is a PO Box?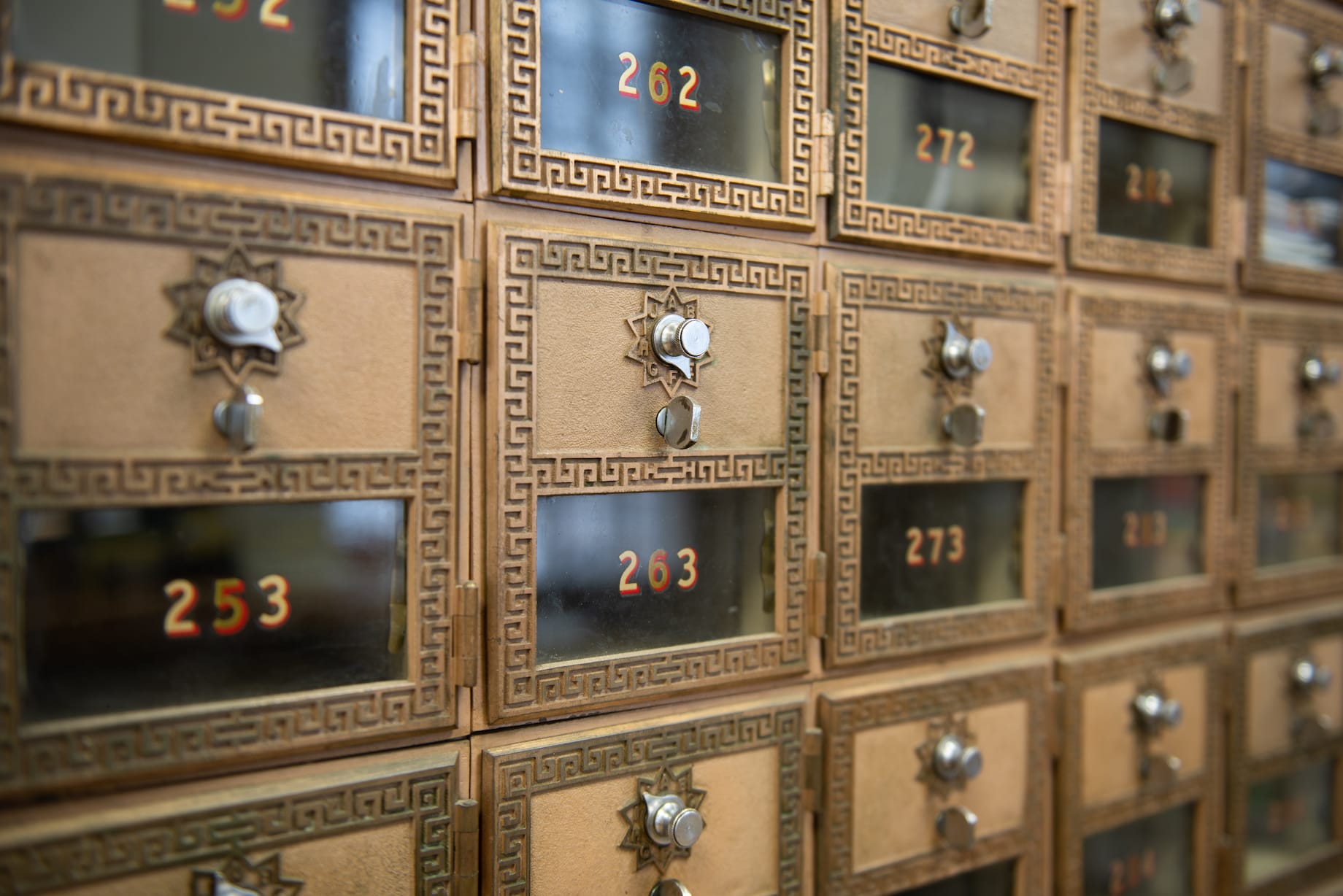 Wondering, "what is a Post Office (PO) Box?" Or, "how to get a PO Box?" Maybe you've already made up your mind, and you're just asking, "how much do they cost?"
This post covers everything you need to know about USPS PO Boxes:
There's plenty to go over so let's get started!
TL;DR
Don't want all the details? These are USPS PO Box price ranges you can expect.
| PO Box Size | 3-Month Period | 6-Month Period |
| --- | --- | --- |
| Extra Small (3" x 5.5") | $13-$44 | $21-$75 |
| Small (5" x 5.5") | $17-$87 | $28-$150 |
| Medium (5.5" x 11") | $26-$144 | $42-$250 |
| Large (11" x 11") | $37-$230 | $62-$400 |
| Extra Large (12" x 22.5") | $64-$360 | $109-$625 |
Source: USPS.com
What is a PO Box?
If you're looking for a more secure option for your personal or business mail, or want to keep your home address to yourself, one of your options is a post office or PO Box. They're the most convenient solution for freelancers, city-dwellers, and frequent travelers, just to name a few. A PO Box, also referred to as a Postal Box, is a locked mailbox that can be accessed by key or code, depending on the specific post office location. The box is generally situated in the post office lobby and receives the mail that you don't want to be addressed to your home.
How much is a PO Box?
Why are there such wide price ranges? There are a number of factors that go into USPS PO Box price, including:
Location

Size

Payment period

Additional fees
Location
The location of your PO Box plays a large part in determining its price. Different post offices have different price codes depending on whether your area is considered "competitive" or "market dominant."
"Competitive post offices" are allowed to charge higher fees, but they often provide additional services in exchange — such as electronic notification of the receipt of mail, signature on file, and additional hours of access.
Size
The next thing to consider when determining the cost of a PO Box is the size you want. Depending on the post office, you can usually find PO Boxes in five sizes, ranging from extra small to extra large. Most PO Boxes are 14.75" deep.
Extra Small PO Boxes (3" x 5.5")
These little mailboxes can hold 10-15 letters or two rolled-up magazines.

Small PO Boxes (5" x 5.5")
Small PO Boxes hold up to 15 letters and 5 rolled magazines.

Medium PO Boxes (5.5" x 11")
These mailboxes are perfect for large envelopes and magazines to be stacked flat.

Large PO Boxes (11" x 11")
Twice as tall, the large PO Box is so roomy that you can fit two shoe boxes inside and still have space for 10-15 letters.

Extra Large PO Boxes (12" x 22.5")
The largest PO Box available holds multiple Flat Rate Boxes and parcels.
When deciding which size box is right for you, consider the volume of mail you will be receiving and the frequency you will stop by the post office to pick up your mail.
Wondering what happens when you have a mail overflow situation? Here is how the USPS answers that question: "When mail for a customer's PO Box exceeds the capacity of the box on 12 of any 20 consecutive business days (excluding Saturdays, Sundays, and national holidays), the box is in an overflow condition. Customers whose box is in an overflow condition must use caller service, change to a larger box, or use one or more additional boxes to which mail will be addressed."
Payment period
The other important factor to remember when trying to calculate how much it costs is the rental fee payment period. Depending on the post office, you can choose to rent and pay for your mailbox in 3-month or 6-month periods. Some also offer 12-month payment periods.
In general, you get the best deal paying for 6-12 months at a time. Some locations even offer a "baker's dozen" promotion. Ever bought 12 bagels and gotten an extra one for free? Reserve your PO Box for 12 months and some locations will throw in the 13th month for no extra cost.
Additional fees
You also need to factor in a few additional fees to your price. In market dominant areas, you'll have to pay a $4 deposit each of your first two keys (they're free in competitive areas). Any additional keys beyond that will cost you another $8. Lose your keys or forget your code? That'll set you back $23 for lock replacement.
This table should help you compare all of the factors that go into the PO box price.
| PO Box Size | 3-Month "Competitive" Location | 6-Month "Competitive" Location | 3-Month "Market Dominant" Location | 6-Month "Market Dominant" Location |
| --- | --- | --- | --- | --- |
| Extra Small (3" x 5.5") | $13-$44 | $21-$75 | $13-$34 | $21-$57 |
| Small (5" x 5.5") | $17-$87 | $28-$150 | $17-$50 | $28-$84 |
| Medium (5.5" x 11") | $26-$144 | $42-$250 | $26-$87 | $42-$145 |
| Large (11" x 11") | $37-$230 | $62-$400 | $37-$159 | $62-265 |
| Extra Large (12" x 22.5") | $64-$360 | $109-$625 | $64-$249 | $109-$416 |
Why get a PO Box?
Security
Are you worried about the safety of your mail? Or want to keep your home business mail separate from your personal mail? A PO Box is the perfect solution. Whether it's the Amazon packages that never made it or your neighbor's dog's affinity for envelopes, renting a box from the post office gives you a secure option for protecting your mail.
Privacy
Depending on your profession, you may want to refrain from sharing your home address. If you're a professional blogger, for instance, receiving samples is a must, but you don't want just anyone knowing your address. With a PO Box, you'll protect both the privacy of your mail and your home address.
Accessibility
Since your PO Box will generally reside in the lobby of the post office, you'll have access to your mail when the post office lobby is open. Many locations offer 24/7 access to the lobby or extended hours, making checking your mail extra convenient.
Delivery Speeds
One of the biggest advantages of getting a PO Box is that you'll often receive your mail faster than you would at your home address. Since your mailbox will be right inside the post office lobby, you'll save your mail a trip in the USPS mail van.
How do I get a PO Box?
Thankfully, signing up is easy and you can choose to apply at your local post office or online. The process is fairly straightforward for both, but the steps are slightly different. Either way, be sure to note that there can only be one primary key holder — but you can give access to others if necessary.
Online
On the USPS PO Boxes page, enter your address or zip code to search for a PO Box near you. Then, select the most convenient post office from the map. When you select it, you'll be able to see the sizes they have available, along with hours and directions.
Select the size of the box you're looking for, and you'll be prompted to either reserve the box or join the waitlist. If the box you want is available, you can choose your 3-month, 6-month, or 12-month payment preference. If the size you want isn't available for your preferred location, you can add your name to the waitlist. (Note: if you request to be placed on a waiting list for the size box you want, the post office will either send an email or call you when it becomes available at your designated location. You will have 2 days to reserve the box before it gets offered to the next person.)
The rest is simple! Just fill out the online application (PS Form 1093), type in your contact and billing information, and hit submit.
You'll have 30 days to confirm your identity and pick up your keys at the post office, so remember to print your form, grab two forms of acceptable U.S. identification and hop on down to the post office where you reserved your PO Box before you forget.
In-person
The in-person application is also a breeze. You still need to complete the online application (PS Form 1093), which you can pick up at your local post office or print out. When you go to the post office, be sure to have two forms of ID (including a photo ID) with you so they know you are who you say you are.
The post office that you hand your application into doesn't need to be the one holding your PO Box, but it does need to provide window service, so double check before heading out.
What are Premium PO Box Services?
Want to make life even easier? The US Postal Service offers free premium services at some of their locations (in competitive areas), and they're definitely worth asking about. From taking care of large packages, to receiving smartphone alerts when you have mail, to offering expanded lobby hours, these premium services are extremely helpful.
Real street address for your PO Box
If you're an online shopper or receive a lot of large packages, you can use the street address of the post office containing your PO Box for your mailing address. For example, if your post office is on 700 Smith Avenue and your PO Box is number 27, your PO Box address would be 700 Smith Avenue #27.
This way, you'll be able to receive mail and packages from most carriers including FedEx and UPS. There are some rules and limitations to this, so be sure to thoroughly read through the customer agreement when filling in your information.
Keep a signature on file
Post office lines are the worst. Usually, if you receive specific types of mail such as insured items that need your signature, you'll have to go to the counter and sign for them. With USPS PO Box premium services, you keep a signature on file and avoid all of the hassle (and the lines).
Waived key deposit
The USPS usually charges a deposit for the first two keys to your box. Want to save a few dollars? Set up your box at a post office that offers premium services (they waive this fee). Keep in mind you'll still have to cover the $8 fee for any additional keys.
Extended hours
Have to work late and can't make it to the post office during regular lobby hours? Not to worry. With their premium services, select locations offer extended hours to access the post office lobby and grab your mail.
What are the disadvantages of getting a PO Box?
Even with all of its advantages, getting a PO Box does have some drawbacks.
Not all mail is accepted
If your local post office doesn't offer premium services, you won't be able to receive packages or mail from any carriers other than the USPS. It's the only company permitted to put mail into your PO Box. So, those Amazon packages or the gift basket from your great aunt will have to be delivered to your home address.
You have to pay to a rental fee
As you're aware, PO boxes aren't free. They must be paid for and renewed at specified intervals. Depending on your location, size, and rental period, you could spend more than you want to on your mail service.
Limited availability
If there isn't a location near you with an available PO Box, you might have to travel to pick up your mail. Not exactly ideal. You could also find that the size box you need isn't available at your nearest post office — again meaning you to go out of your way to collect your mail.
Does the post office have a PO Box refund policy?
You figured out how to procure a PO Box near you and reserved the best size for six months — only to be relocated for work a few months later. What do you do with your PO Box?
Good news! You may be eligible for a refund. To get a refund, the USPS has two policies — one for active PO boxes and another for inactive PO boxes. Wondering which one yours is? If you picked up your keys, your box is active.
How to request a refund
If you want a refund for your fees, you can make the request either online or in-person at the post office where your box is located. Both options are fairly straight forward.
To make your request online, simply log into your USPS account and visit the "Manage Your Account" page. From there, you can close and request a refund.
When making your request in-person, all you have to do is visit the post office containing your PO Box and request a refund at a service window. Remember to bring your key(s) with you!
How to request a refund — inactive PO boxes
Thankfully, getting a refund for a PO Box you didn't pick up the keys for is fairly simple. After 30 days of inactivity, you should see a full refund from the post office. If you cancel within the 30 days, you still get a full refund but you'll have to make your request first.
How to request a refund — active PO boxes
Refunds for active PO boxes are slightly more complicated:
3-month rental: You aren't eligible for a refund, but you can still close your PO Box online.
6-month rental: You can receive a 50% refund if you close your PO Box within the first three months. After the beginning of the fourth month, you won't be able to get a refund.

12-month rental: You get a 75% refund when you close your PO Box in the first three months, a 50% refund in the first six months, and a 25% refund in the first nine months after opening it. After the start of the tenth month, you'll no longer be eligible for any refund.
Now that you know how much a PO Box costs and how easy it is to get a one, you can go ahead and secure your mail at your local post office. Remember to ask about their premium services!
Moving soon? Check out our Epic Moving Checklist for help getting and staying organized.
---